"It's Like Having Home in a Bag"
Just in time for Thanksgiving and, of course, Black Friday, Mogix is proud to launch the Baby Bag Pro. It's the gender-neutral, durable gray baby bag designed for real parents on the go in real life, with everything they need.
Traveling through an airport with a baby during the holidays has never gone more smoothly.
The Baby Bag Pro was designed to give you an extra hand, quite literally. Instead of needing two hands to get something out of your bag – or even to plug your phone into a portable battery pack – you need only one. This keeps your other hand free for the dozens of other things your baby needs!
In fact, that's exactly how Mogix co-owner Loreen Worden initially came up with the concept for the Baby Bag Pro's design. "I came up with this specially designed Baby Bag Pro when I saw my daughter struggling to find her power bank while on the phone with my grandson's doctor, and while the two of us were juggling her two small children in the middle of a busy store. I thought, there must be an easier way, and the idea came to me. This was 2 years ago, and we are so happy to finally have this product launched," she said.
What Makes the Baby Bag Pro Different?
This tote style duffel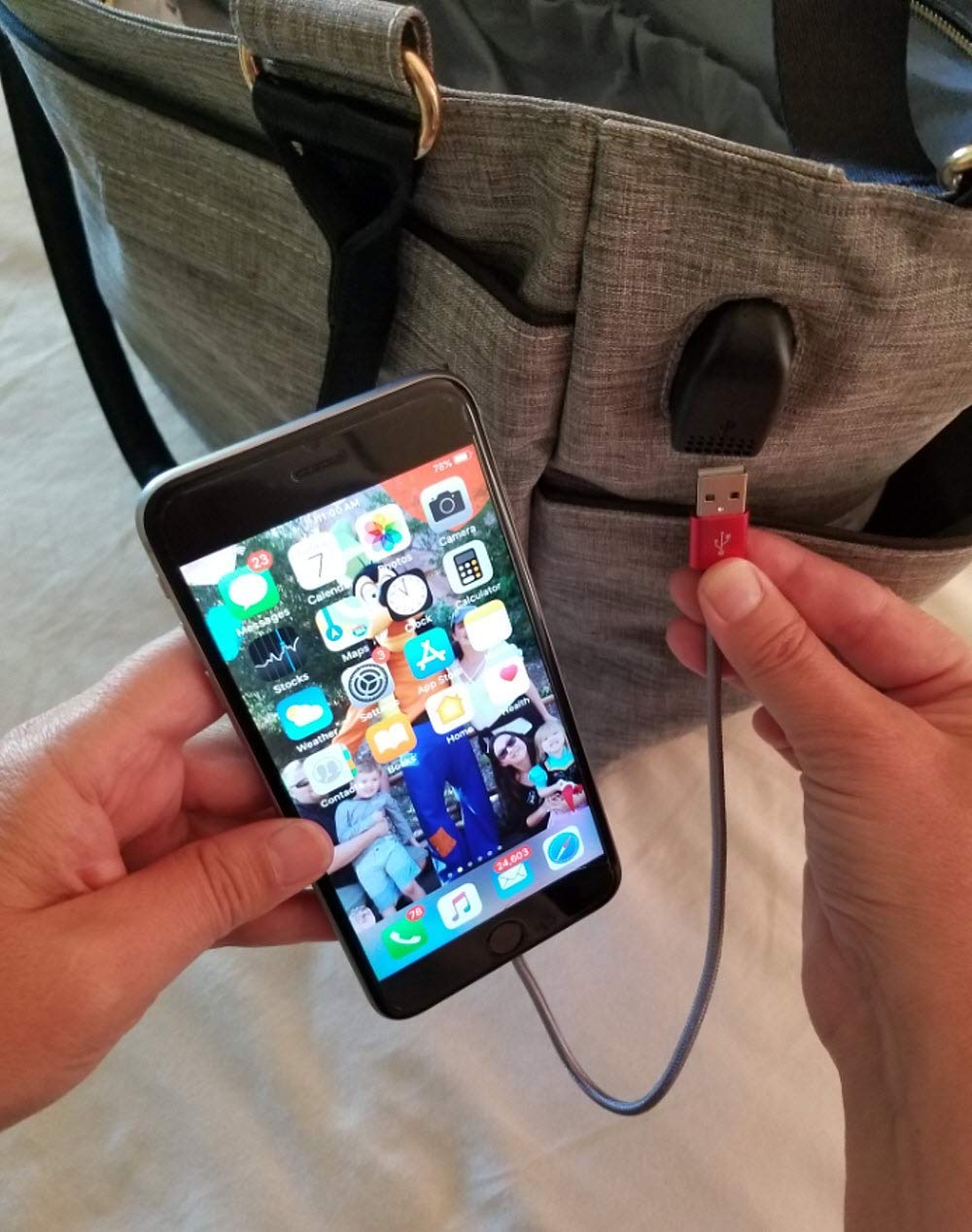 is lightweight and compact while still being extremely roomy, measuring 18" by 11.5" by 7.5". In fact, it has 11 compartments as well as 5 insulated pockets to keep baby's bottle warm or mom or dad's water bottle cold all day. Its convertible strap lets you carry it on your shoulder or cross-body, while also easily fastening to a stroller.
Moms and dads on the go have easy access to absolutely everything they need in terms of lightweight storage and the ability to charge a phone, tablet, e-reader or even portable breast pump. Anything that charges using a USB cord can plug into the built-in portable battery. While your device charges, keep it tucked into securely zippered pockets so it stays put but within easy reach.
Along with the USB power pack, each Mogix Baby Bag Pro includes a diaper changing mat, a waterproof reusable storage bag, a snack container and a free ebook that offers handy recipes and tips for parents living busy lives.
Whether you're headed to a busy store, a doctor's office or across the country, the specially designed baby bag has a spectrum of features to make life happier and more convenient.
The Mogix Baby Bag Pro was designed for families, by a family-owned and operated business.
Worden and her daughter work together at Mogix and combined their real-life experience and design prowess to come up with a product that really would have customers saying: "It's Like Having Home in a Bag." They wanted to make sure that parents can carry everything baby needs while avoiding the threat of a dead cell battery at the same time. After all, who has the time to sit around at a wall socket and wait for a phone to charge, especially when you forgot to do it overnight!
They began working together – along with their husbands – 8 years ago when Worden sold her insurance agency to pursue her dream business in California. She came up with Mogix – combining the words mobile and gadgets – to bring only the best, most practical and most real-life-helpful accessories to people whose lives are on the go. The flagship product – a lightweight, high capacity portable phone charger – was launched and the rest is history.